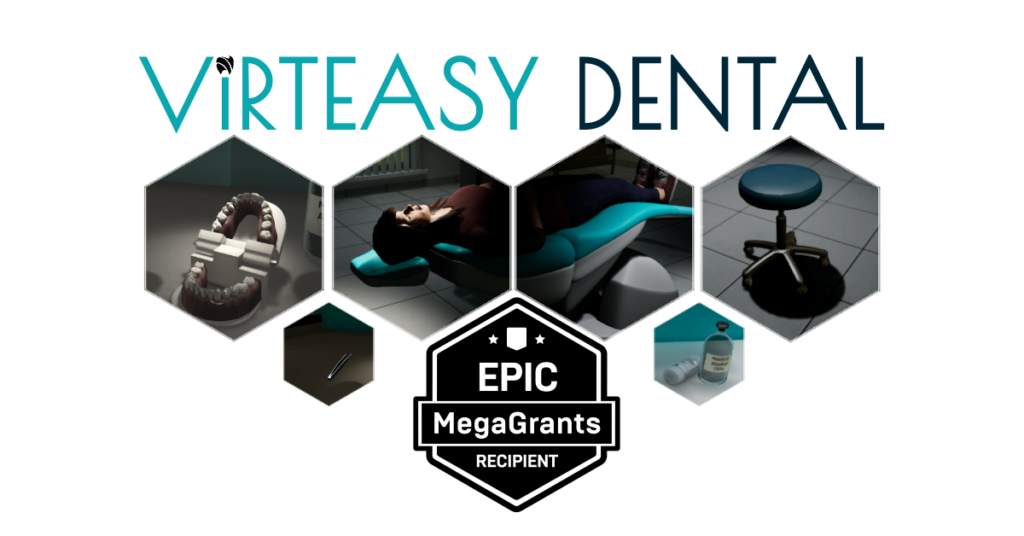 Virteasy Dental (by HRV Simulation) is happy to announce the upcoming launch of Virteasy V2 and VR, which has been rebuilt on the Unreal Engine thanks to a MegaGrant from Epic Games. This is the first official integration of 3D Systems' haptic devices and the first Next-Gen dental training simulator to be built on Unreal Engine.
The unveiling date is 22nd September 2021, which will be at IDS Cologne, in partnership with 3D Systems. The official launch will be 12/11/21 with the first installations from pre-orders planned in Italy and in Pakistan.
With the University of Sheffield as a development partner, Virteasy Dental trains students for real-world procedures before patients even sit in the chair. Mixing interactive simulations, powered by Unreal Engine, with the use of a haptic arm, students are able to not only replicate, but simulate through feeling what it feels like to work on teeth.
James Markey, Head of Sales / Product, said "thanks to the MegaGrant from Epic Games we are able to take the power of the Unreal Engine and take Virteasy Dental and dental training to the next level". Some of those improvements include:
Improve graphics with dynamic lighting and shadows for a better sense of position within the simulation
Integrate a brand new virtual patient with interactions and animations to make them more lifelike
Add a full-VR mode that allows the use of the Oculus Quest headset
Start testing new features and functionalities with universities: simulation of blood, hand-tracking.
These improvements will see a world-wide impact when we update our existing simulator base in early 2022 with the new simulation once it has been tested by the early adopters:
20+ Countries
40+ Universities
115+ Simulators
Virteasy Dental V2 – Classic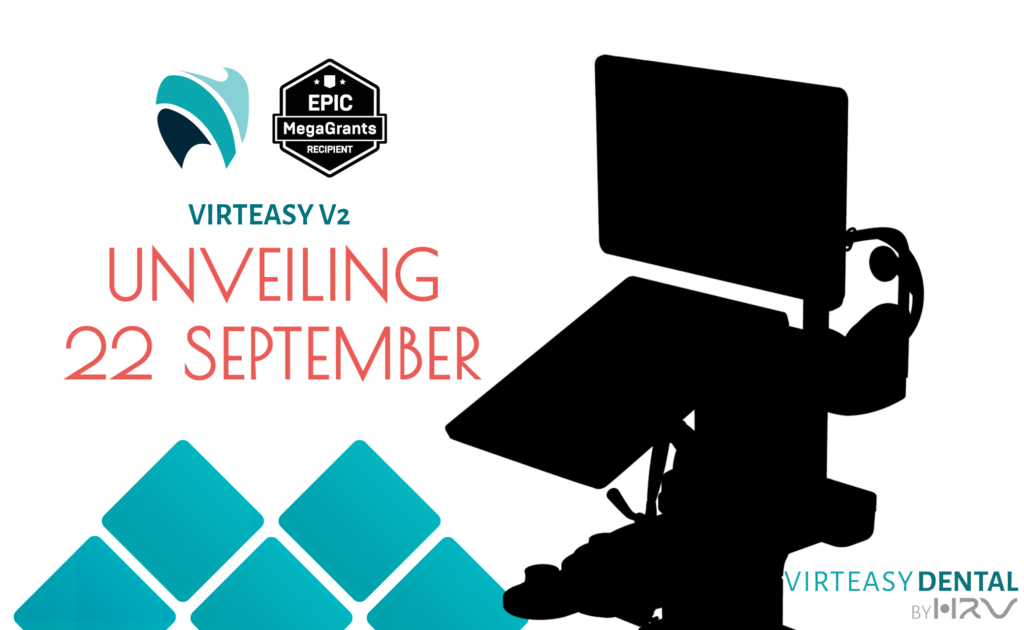 Virteasy Dental V2 is a redesigned simulator that introduces a new, innovative, modular, design for modern dental training. A natural evolution from V1, the new simulator features more compact high-resolution monitors for both navigation and surgery.
Virteasy Dental V2 in VR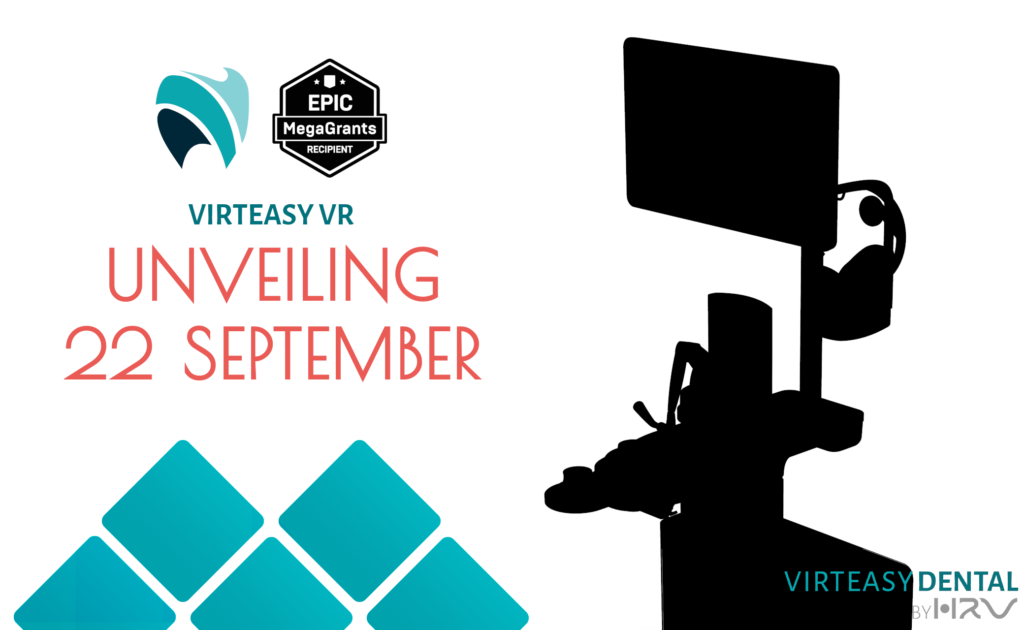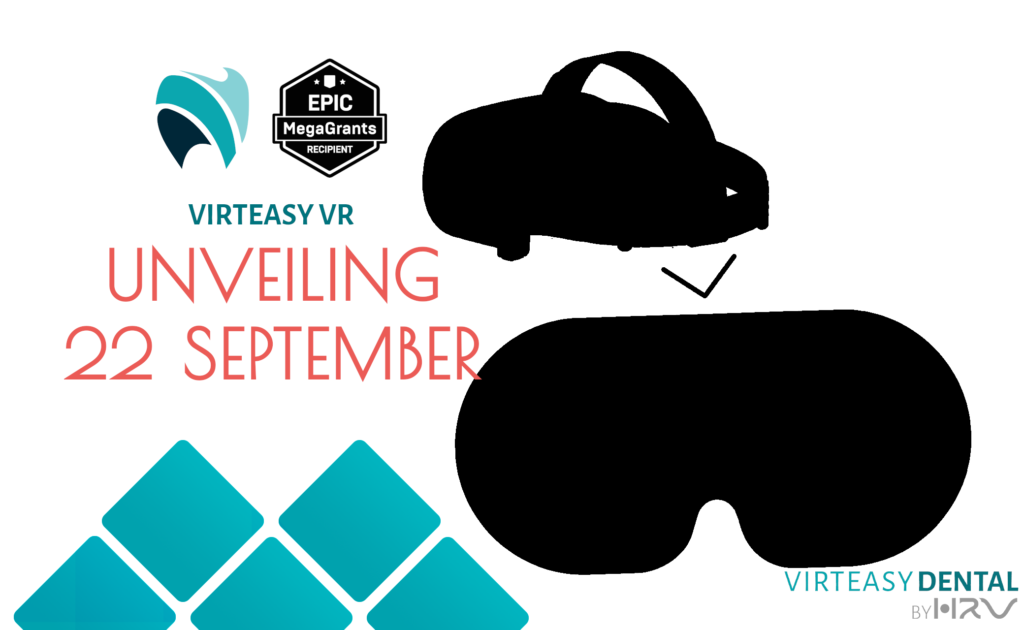 The first haptic dental training simulator in the world to offer full VR with the Oculus Quest headset, it offers a totally new immersive experience which students have loved.
This also opens up the door to remote training for non-haptic training from home and larger simulation suites on more of a budget.
Keep informed in our newsletter: https://www.virteasy.com/newsletter
About HRV Simulation
Virteasy Dental is a brand of HRV Simulation (HRV).
HRV is a very innovative company that develops training solutions based on virtual reality, haptics and motion capture, established in Laval (France). Laval is the city of virtual reality technologies with one of the most popular worldwide events in that field, Laval Virtual trade show (http://www.laval-virtual.org). The most popular brands from HRV Simulation are Virteasy Dental, which is used for dental training in more than 20 countries (https://www.virteasy.com) and NAWO Solution, an ergonomic analysis tool using motion capture technologies (https://www.nawo-solution.com)